Julius C. Jefferson, Jr. <br>& Crosby Kemper, III
Featured Guests
Date:
Saturday, June 26, 2021 1:30 PM - 2:00 PM CT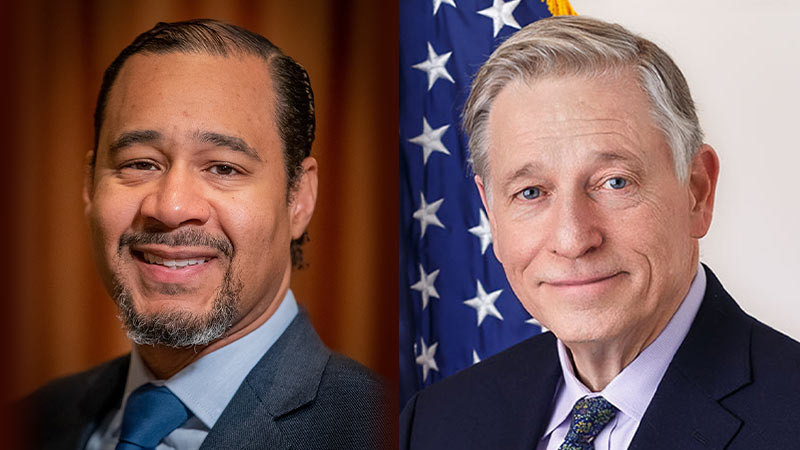 In Conversation — with ALA President, Julius C. Jefferson, Jr.
and IMLS Director, Crosby Kemper, III
Realms of Possibility
Join ALA President, Julius C. Jefferson, Jr. when he sits down with IMLS Director, Crosby Kemper, III for a live and personal conversation about Kemper's journey; his vision for IMLS; and what it's like to lead the federal agency's efforts to administer the largest single supplemental increase in funding in IMLS history—all while telecommuting from his home in Kansas City. 
---
Crosby Kemper, III is the sixth director of the Institute of Museum and Library Services, the independent government agency and primary source of federal support for the nation's museums and libraries. He was commissioned by the White House on January 24, 2020, following his confirmation by the United States Senate. 
He is a dedicated advocate for education and learning for people of all ages and backgrounds. Prior to his current role, he was the director of the Kansas City Public Library where he established the library as one of the city's leading cultural destinations and a hub of community engagement. Under his direction, the library focused on special event programming with more than half a million people attending its evening programs or visiting exhibits in the art galleries. Within 18 months, Kemper went from executive director of the Kansas City (Mo.) Public Library to Director of the Institute of Museum and Library Services in Washington, D.C. 
He has received multiple awards, including IMLS's National Medal for Museum and Library Service in 2008. He recently served as chair of the board of directors of the Schools, Health, & Libraries Broadband Coalition, which supports open and affordable broadband connections for local community organizations.
Kemper has received the Difference Maker Award from the Urban League of Kansas City; the William F. Yates Medallion for Distinguished Service from William Jewell College; and the 2010 Harmony Humanitarian Hoffman Legacy Award. His board service has included the Kansas City Symphony; the Black Archives of Mid-America; Union Station Kansas City; the Heart of America Shakespeare Festival; the Rabbit hOle—a center promoting children's books; and the Thomas Jefferson Foundation, which operates Monticello.
---
Julius C. Jefferson, Jr. currently serves as the President of the American Library Association. He has been a member of ALA Council since 2011 and has served on a number of committees and task forces of the Association. In addition to his service to ALA, Jefferson served on the board of the Freedom to Read Foundation (2012–2016) and served as its 2013–2016 president; served as president of the DC Library Association (2015); and served on the board of BCALA (2007–2009). He is the recipient of several awards, including ALA Equality Award (2019), BCALA Outstanding Contribution to Publishing Award (2013), and BCALA Appreciation Award (2010).
A frequent speaker on issues of importance to library workers, Jefferson has appeared on a number of media outlets, including National Public Radio. He is co-editor of "The 21st Century Black Librarian in America: Issues and Challenges" and is often sought as a speaker on library-related issues such as diversity, leadership, and professional development. Jefferson holds a bachelor's in history from Howard University and an MLS from the University of Maryland.